Total : 2
ESL Electronic Shelf Label
Arizon Taiwan has integrated technology with E-ink (the world's largest electronic shelf labels manufacturers and company) and provide integrated services with distributors, we provide visualized RFID and IoT solution to retail customers (Electronic shelf label). ESL can update product prices in real-time, allowing staff to update prices in sales/marketing activities, saving manpower, time and reducing error rates. ESL electronic shelf labels can be integrated with customers' existing retail systems, in addition, correct and reliable information can also speed up marketing activities in stores.


Electronic Shelf Labeling System Datasheet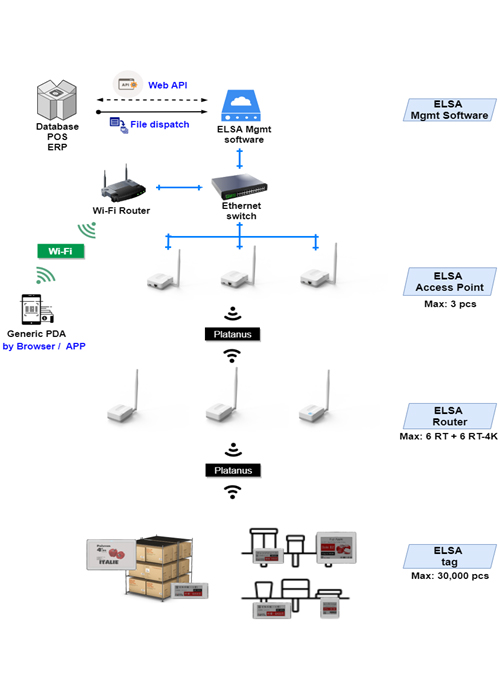 *The LOS link distance may be varied because of the store layout and materials.
Key Features
Co-exist with Wi-Fi & Bluetooth
Unique architecture for reliable coverage without interference from existing Wi-Fi equipment.
Exceptional extendibility
AP-RT structure enables wider wireless coverage. Extended RT can be adopted when more tags are required. The LOS is 100 meters from AP to tags.
Efficient power management
Unique energy protocol tuned to optimize the power consumption and network efficiency.
Intelligent system
Acknowledges instant battery level and signal strength notifications for better device management.
ELSA-E series is tailored to the turn key solution for the retail field. With various tag size selection, customers can use in different applications such as convenient stores, supermarkets, pharmacies, and so on. In the store with one AP is deployed, total 15,000 tags can be used.